Amanda Sheaffer
Amanda Sheaffer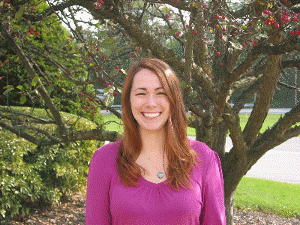 Amanda is brand new to the WM team, but has attended Bethel since birth. She is a youth leader for Bethel's teens and you might hear her called "DD", her youth appointed nickname. She also co-facilitates Bethel's Book Club and is an avid reader.
She has her BS in Elementary and Early Childhood Education from Millersville University and her Director Credential from Penn State. She is the daycare director at our own Bethel Preschool & Daycare.
She and her husband, Rob, have been married since March 18, 2006. They live in Boiling Springs with Logan, their cat, and Sully, their beagle. Rob is currently a student at Shippensburg University studying environmental science.
Amanda is only one branch of her family tree at Bethel. Her aunts, uncles, grandparents, parents and cousin attend as well. Her parents are Debbie and Randy Marshall. She has a younger brother, Andrew, and a niece, Caitlyn Michelle.
Amanda loves cooking and you'll probably taste her soup at an upcoming women's event.