Heart to Heart
Heart to Heart
A scripture and a thought from our heart to yours.
"The seed of joy grows best in a field of peace." - Robert J. Wicks
When I was a little girl, I remember in the summer my grandmother and I would go out to the yard and swing. I remember, her and I would go early in the morning and she would sing the old hymn, "I Come to the Garden Alone" to me. I am reminded of this wonderful memory by something my mother-in-law sent me. It is How to Plant your Garden". First, you come to the garden alone while the dew is still on the roses.
Then, for the Garden of your daily living, plant three rows of peas.
1. Peace of mind.

2
. Peace of Heart.
Next, plant four rows of squash.
Next, plant four rows of lettuce.
4. Lettuce really love one another.
And no garden is without turnips.
3. Turnip to help one another.
To finish our Garden we must have thyme.
You need to water freely with patience and cultivate with love. There is much fruit in your garden because you reap what you sow.
"And he who reaps receives wages, and gathers fruit for eternal life, that both he who sows and he who reaps may rejoice together."

So plant your garden and pray that God will bless you with a giant harvest!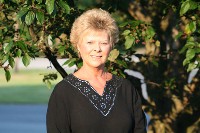 Rose Strait